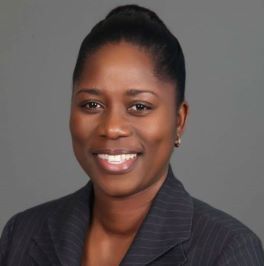 Engr. Natalie Sparkes is currently the Powerhouse Restoration Manager at Jamalco.  A graduate of the University of the West Indies (UWI) St. Augustine Campus with a B.Sc. with Honours in Chemical and Processing Engineering. She also holds an M.B.A from the Manchester Business School majoring in Engineering Management and a Masters in Manufacturing Leadership from Rochester Institute of Technology, USA.  She is a Certified Project Manager (PMP) and a registered Professional Engineer (PE).
Upon graduating from the UWI, Engr. Sparkes worked first at the Sugar Company of Jamaica, before joining Alcan Jamaica which later became West Indies Alumina Company (WINDALCO) as a Process Engineer. During her tenure there she held various Managerial Posts from Technical Manager to Strategic Development Manager before leaving in 2015.
In 2015 Engr. Sparkes joined Jamalco as their Transition Coordinator. Since then, she has since held numerous roles from Capital Expenditure to Production and Maintenance Manager. She is currently the Powerhouse Restoration Manager tasked with implementing the required Powerhouse Steam and Power Generating capacity.
Engr. Sparkes takes part in several extra curricular activities. She is currently a member of the Professional Engineers Registration Board (PERB) and Treasurer of the Board of Directors of the $5 Billion - JPS and Partners Credit Union.
Education is a key focus of Engr. Sparkes as she was part of the team that designed/founded the current Ministry of Education School of Excellence Mount St Joseph Catholic High School. She is currently the Board Chair for the Huntley Primary and Infant School and sits on the Advisory Council for the Master's in Engineering Programme at the University of Technology.  
Engr. Sparkes is a Justice of the Peace for Jamaica, a Sunday School Teacher and a PTA executive member for Manchester High School.