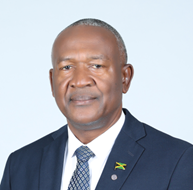 Engineer Glaister Ricketts has over thirty years' experience as a Mechanical Engineer, fifteen of which were spent at Petrojam Limited where he started his engineering career as a Refinery Mechanical Engineer and rose to the positions of Senior Supervisor of Reliability and Maintenance, and Manager of the Refinery Turnaround Projects.  In 2003, he founded GAR Engineering Company Limited which provides mechanical engineering services to the Mining, Electricity, Energy, Manufacturing, Processing and Hospitality Sectors.
He holds an Executive Master of Business Administration degree and a Diploma in Management Studies from the University of the West Indies, Mona campus, and a Bachelor of Science degree (Hons), in Mechanical Engineering from the University of the West Indies, St. Augustine campus.
Engr. Ricketts is a registered Professional Engineer since 2003 and a member of the Jamaica Institution of Engineers (JIE).  He served on the Council of the JIE and was the Chairman of the Commentary/Technical Advisory Committee and Chairman of the JIE / JSIF Partnership with the Integrated Community Development Project (ICDP) School Science Quiz Competition. He was elected President of the Jamaica Institution of Engineers for the period 2020 to 2021.  He currently serves as a member of the MSc Engineering Graduate Advisory Committee at the Faculty of Engineering and Computing, University of Technology, Jamaica and is also a mentor to engineering students there. 
He was appointed to the Professional Engineers Registration Board (PERB) from June 2018 to November 2020, and served as the Chairman of the Registration Act Enforcement Committee.    He was reappointed to the PERB in April 2023 and now serves as its Chairman.
In 2022 he was awarded the Badge of Honour for Meritorious Service, for outstanding contribution to the Energy Sector.
Engr. Ricketts is committed to the ideals of the Rotary Club, of 'Service Above Self', and is a Past President of the Rotary Club of Saint Andrew North and a Paul Harris Fellow.  He is also a Justice of the Peace of St. Andrew, and a Steward at the Saxthorpe Methodist Church.